Contact Us
Today

Servicing all Perth City and surrounding metropolitan areas
ACT FAST ON WATER DAMAGE TO YOUR WET CARPETS!!
BIG TREV'S CARPET CLEANING is on call 24 hours a day, 7 days a week for flood restoration and water damage repair in Perth.
BIG TREV'S CARPET CLEANING specialises in 24/7 STORM AND FLOOD DAMAGE RESTORATION. All of our vans are fully equipped with water damage drying equipment. We cover all Perth suburbs.
BIG TREV'S CARPET CLEANING specialises in these every day 'wet emergency' situations for all your carpets, floors and furniture caused by …
• Storm and flood damage
• Overflowing washing machine, bath, basin or toilet
• Leaking hot water systems
• Burst pipes or leaking taps
• Leaking water dispensers, fridges, and freezers
• Accidental spillages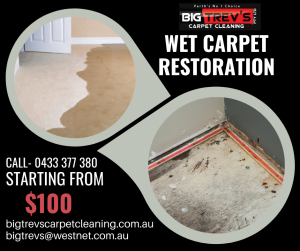 BIG TREV'S CARPET CLEANING professional team are on hand to respond to all your water damage needs whether it be flooding, a leaking hot water system, bath, sink, tap or just an accidental spill. BIG TREV'S CARPET CLEANING uses specialist solutions and equipment to quickly extract the water, dry the carpets using high velocity air blowers and dehumidifiers then treat, clean and deodorise your floor to minimise mould and odours. A written report can be provided for insurance claim purposes.
The proper process of water restoration:
A moisture test to determine the extent of the water damage. The carpet may feel dry to the touch but is damp underneath, which will result in the growth of mould and mildew.
Water Extraction from the carpet and underlay.
Removal and disposal of underlay depending on its condition.
The installation of air blowers to move the air to the wet areas and allowing the water to evaporate quickly.
Sometimes a dehumidifier is required depending on the dampness of the carpet/floors/walls.
Once dry an anti-browning treatment is sprayed onto the carpets and this is followed by the carpets being steam cleaned giving the affected area a clean and consistent appearance to the rest of the carpet. We then deodorize the carpet which covers the odour and attacks and eliminates the source of the odour.
A written report can be provided for insurance claim purposes.
Costs associated with water damages:
* Callout fee including travel time from office in Malaga, extraction of water, setting up drying equipment (see price list)
* Hire of air blowers and/or dehumidifiers (see price list). Usually drying equipment is required for 2 – 3 days. Do not turn off drying equipment until advised by technician.
* Check (technician to attend premises as required to probe carpet to check whether dry, emptying dehumidifiers and/or placing air movers in different areas of rooms) (see price list)
* Clean, treatment and deodorise of carpets (see price list)
Price List- https://bigtrevscarpetcleaning.com.au/price-list/
BIG TREV'S CARPET CLEANING Storm and Flood Restoration Team is on call 24/7 ensuring that Flood Restoration can begin immediately to minimise the impact on your home and business. Immediate response to flooding saves you time and money. The longer any kind of water damage goes untreated the greater the damage.
BIG TREV'S CARPET CLEANING will quickly minimise and prevent further water damage to your wet carpets and furniture caused by standing water and hazardous bacteria and mildew which comes with it.
STORM AND FLOOD DAMAGE RESTORATION IS AN EMERGENCY SITUATION. CALL BIG TREV'S CARPET CLEANING today on 0433 377 380 for all your water damage restoration – technicians on call 24 hours a day, 7 days a week